Mitutoyo MDC-50PX 293-241-30 Coolant Proof Micrometer Precision Tool, Japan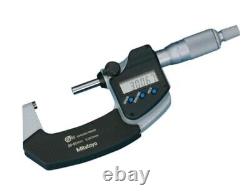 Mitutoyo MDC-50PX 293-241-30 - The Precision Engineer's Choice! Introducing the Mitutoyo MDC-50PX 293-241-30, a coolant proof micrometer engineered for utmost precision and durability. Originating from Japan, the hub of cutting-edge technology, this tool is an embodiment of reliability and accuracy for all your intricate measurement needs.
Precision Engineering: Guarantees accurate measurements with unparalleled consistency. Coolant Proof: Designed to deliver optimal performance even in environments where coolant and lubricants are used. Japanese Craftsmanship: A testament to Japan's acclaimed engineering and manufacturing standards. Robust Build: Ensures longevity and consistent performance amidst various operational conditions.
The Mitutoyo MDC-50PX is not just a micrometer; it is a manifestation of refined engineering tailored for professionals who seek reliability and precision. Every aspect, from its robust build to its accurate measurements, echoes quality and innovation. We are committed to delivering your Mitutoyo micrometer promptly and in pristine condition.

---